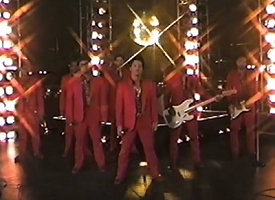 Siapa yang tidak tahu pelantun lagu 'Just The Way You Are'? Ya, Bruno Mars. Tidak hanya suaranya yang selalu bisa membius penonton, Ia pun selalu menyiapkan konsep disetiap konsernya.
Kali ini, konsep vintage masih dijadikan pilihan utama bagi Bruno Mars untuk video klip barunya, Treasure. Nuansa disko era 70-an sangat kental terasa. Penonton akan dibawa terbang ke era awal televisi berwarna tersebut.
Mengenakan kostum serba merah dengan dalaman motif macan, Bruno Mars dan kawan-kawan bandnya tampak kompak menari.
Video klip dengan konsep vintage sebenarnya bukan barang baru bagi Mars. Dua video klip sebelumnya, Locked Out Of Heaven dan When I Was Your Man juga memiliki konsep serupa.
Dilansir Kapanlagi, Treasure merupakan single ketiga Mars dari album UNORTHODOX JUKEBOX. Dua single sebelumnya sudah lebih dulu merajai di beberapa tangga lagu dunia.