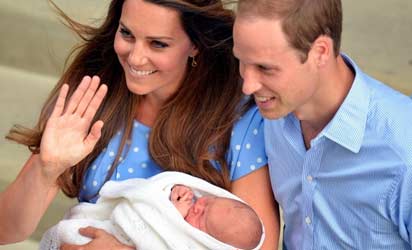 Setelah heboh dengan pemberitaan tentang kehamilan hingga kelahiran anak pertama dari pasangan Kate Middleton dan Pangeran William, kini  putra Kate dan Will juga menjadi Prince of Cambridge ini diberi nama George Alexander Louis.
Dilansir Laman Vemale, nama pertamanya yaitu George tentu akan membawa kebanggaan tersendiri sang ratu Inggris. Nantinya, bayi kecil ini akan dikenal dengan His Royal Highness Prince George of Cambridge atau Yang Mulia Pangeran George dari Cambridge.
Mungkin nama George dipilih karena mengikuti tradisi yang ada. Seperti yang kita ketahui, dalam kerajaan Inggris sudah banyak nama-nama agung seperti George atau James.
Banyak nama seperti George, James, Alexander, Henry, Louis, Richard dan Arthur dalam sejarah kerajaan Inggris. Dan sepertinya nama George adalah nama yang sangat tampan untuk dipilih karena nama ini adalah nama dari ayah Sang ratu Inggris. Bisa jadi, ini persembahan khusus untuk Sang Ratu.
Untuk nama tengahnya, Alexander, juga adalah nama agung. Jika Anda ingat tentang Alexander The Great, seorang raja yang kuat dan hebat yang mungkin William dan Kate terinspirasi dari tradisi Yunani.
Sedangkan untuk nama Louis, kata seorang sejarawan dan biografer kerajaan ini mungkin adalah tribute untuk Lord Mountbatten.